God is always at work. By looking at revivals in the past, we can learn how He desires to make Himself known during desperate times. In recent days, my attention has been captured by the events leading up to the Third Great Awakening, and the New York businessman, Jeremiah Lanphier, who was used of God to remind our nation to pray. 
As Jeremiah Lanphier sought the Lord for revival in his land, he became convinced that if the men and women of his city would join him in prayer, God would open the windows of heaven and pour out a blessing. Lanphier passed out thousands of flyers inviting people to pray with him at noon each day. On September 23, 1857, only a handful of businessmen trickled into the little room he had rented on Fulton Street. Not one of them could have imagined how God would multiply their efforts in the coming days.
They continued to meet for prayer at noon each day, and their group grew to a few dozen. But when financial disaster struck on October 10, 1857, everything changed. People lost jobs, money, and investments. Hopelessness filled the hearts of those who had days before felt no need of spiritual things. God used this dark period to turn the hearts of people to Himself. Thousands of desperate people rushed to churches to pray and seek God. A prayer revival broke out and many churches across America began hosting noon prayer meetings like the one started by Lanphier.
Can it be that God will use this moment, this time of fear, uncertainty, and questions, to draw His people unto Himself? Could a great prayer revival happen in our day amidst the turmoil brought about by the Coronavirus?
God is trying to speak to His people through this crisis. We must prepare our hearts to hear from Him by setting aside a special time of earnest prayer. My church family is joining with me by praying in their homes at noon. We are not interested in a movement or a fad. We truly desire to see what God may do in this time. Will you join me in praying at noon?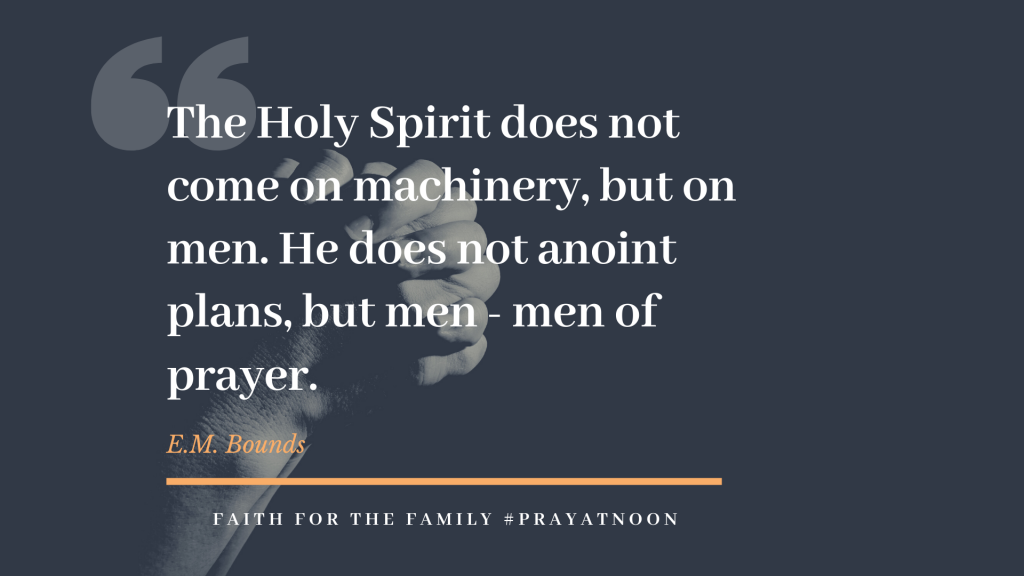 Sources: Christian History Institute, Christian Union Day & Night, and North 27 Worship Center